A London theatre has triggered sensitive Snowflakes after posting a job advert asking Millennials not to bother applying for a job with them.
The Tea House Theatre was immediately branded 'out of touch' and 'obnoxious,' by Snowflakes, after advertising for an office administrator on a salary of £15-20k per year.
In the advert bosses made it clear they were unimpressed with the calibre of young people applying for work with them and noted that this was the 'third time in as many months we have to try and fill the role.'
With three previously successful applicants having had to be replaced in three months it is hardly surprising that the patience of would-be employees with graduate applicants is wearing thin these days.
Describing the theatre's success, despite recent hard times, the posting reads: 'Are you just not taught anything about existing in the real world, where every penny counts? Did no one teach you that the end of your studies is the beginning of your education?'

–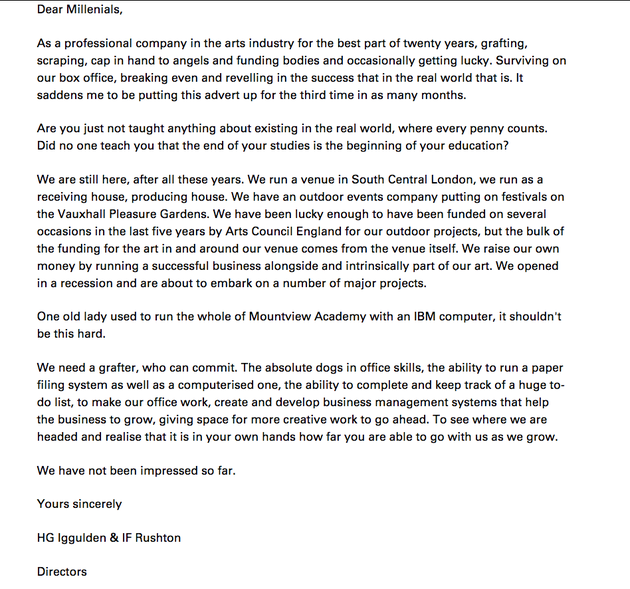 After once more explaining the hard work required to run a successful theatre, the ad continued;
'One old lady used to run the whole of Mountview Academy with an IBM computer, it shouldn't be this hard. We need a grafter, who can commit.
The absolute dogs in office skills, the ability to run a paper filing system as well as a computerised one, the ability to complete and keep track of a huge to-do list, to make our office work, create and develop business management systems that help the business to grow, giving space for more creative work to go ahead.
To see where we are headed and realise that it is in your own hands how far you are able to go with us as we grow.'
The theatre then reflected the state of modern university education by adding, We have not been impressed so far.'
Needless to say the advert angered self-entitled millennials who have never had to work for anything and don't see why they should start now.
Many of them flounced off with the various devices that somebody bought for them and logged into the internet, that somebody else invented for them, only to vent their collective spleen on the social media accounts that were also somebody else's creation.
Have the Tea House Theatre not considered that this fuckin obnoxious advert puts anyone with relevant skills off ever wanting to work there pic.twitter.com/tYFICxSBW6

— shon faye (@shonfaye) July 17, 2017
Tea House Theatre this morning pic.twitter.com/tlmnuVs1kn

— Ryan Devlin (@RyanDevlin_) July 18, 2017
Would love to meet and hug the people who walked out of that Tea House Theatre job

— VAUGHAN 🌋 (@churlishmeg) July 18, 2017
Tea House Theatre sound a bit like a sad angry misogynist who gets angry at women for not wanting to date him

— Ned Glasier (@nedglasier) July 18, 2017
After a total no. of 1 applications, Tea House Theatre is delighted to appoint new administrator https://t.co/M6Xad7NNwF pic.twitter.com/7UTwQOe5hV

— Becky Latham (@BeckyLatham_) July 18, 2017
Dear Tea House Theatre,
it's never good to advertise that you're entitled,patronising & abusive
Love Millennials xhttps://t.co/1xbqNQCqQC

— Creative Electric//H (@Creativelectric) July 18, 2017
–
You can follow Albert on Twitter and Facebook and comment on the story below
–