Pattaya is one of Asia's most popular tourist attractions, ranking number eight on of the list of top 20 destinations across Asia by international overnight arrivals, according to Mastercard's Asia Pacific Destinations Index 2017.
It is also notorious as Thailand's sex capital, an unwanted epithet the Tourism Authority of Thailand (TAT) has worked hard to dispel.
And it has worked, or so says Tanes Petsuwan, TAT's deputy governor for marketing communications. Speaking to travel industry publication TTG Asia in June, he announced, "Pattaya has reinvented itself for upscale travellers."
The resort city's seedy reputation is said to have originated during the Vietnam war, when American troops stationed in the region started to visit what was then a sleepy fishing village, becoming so taken by the local hospitality that they returned in ever greater numbers.
As they did so, R&R establishments sprang up to cater to the GIs' every need and the Pattaya we recognise today was born – by 2012, men outnumbered women in the city, with almost six men for every four women, according to numbers provided to Reuters by TAT.
In April 2017, the Royal Thai Police launched the first of its efforts to clean up Pattaya's seedy image, opening the euphemistically monikered "Happy Zone" along the central Walking Street entertainment district. Unfortunately, this was somewhat overshadowed by a raid on an illegal orgy just weeks later.
The nationalities of those involved – including tourists from Australia, America, Britain, Canada, China, Malaysia, Singapore, Germany, Cambodia, India and Ukraine – meant that this garnered significantly more international attention than the inauguration of Happy Zone.
Then in February, a group of 10 Russian "sex instructors" were arrested and detained by police, one of whom bizarrely claimed to have evidence of Russia's interference in the 2016 US election, and Pattaya again hit the headlines for all the wrong reasons.
Officials responded to the incident by issuing a statement that said: "[TAT] ensures that its marketing strategy and policy to move Thailand forward as the 'Quality Destination' has stepped in the right direction […] and strongly opposes any form of sex tourism."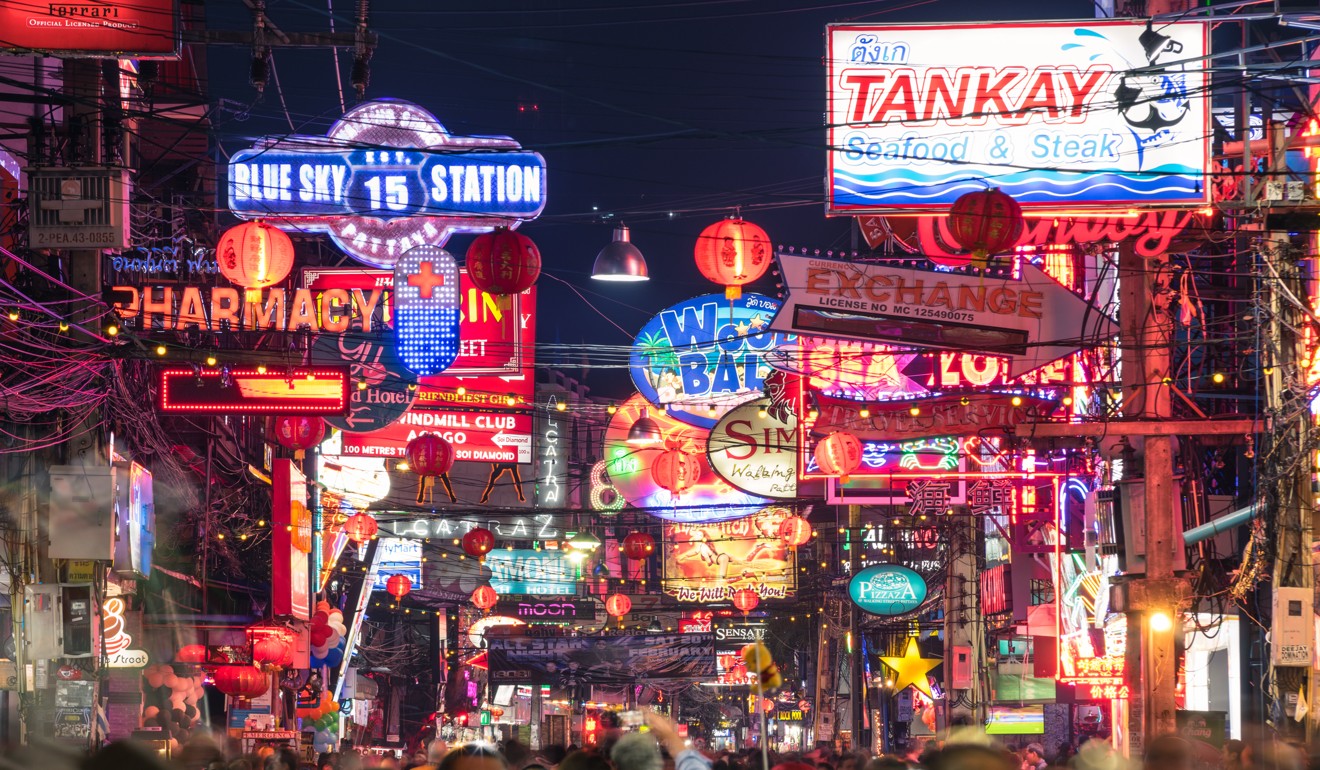 However, the demographics of visitors to Pattaya are changing. In 2010, according to a 2012 report by hospitality consulting firm C9 Hotelworks, Pattaya's top five source markets were, in order, Thailand, Russia, China, Germany and Taiwan.
By 2016, following the collapse of the rouble, Chinese visitors dominated, trailed by Russians, Koreans, Indians and Germans, while Thai tourists accounted for 35 per cent of all arrivals.
And, perhaps most importantly, Chinese tourists are as interested in shopping and spicy street food as they are in sex.
Which is not to say that visitors from the Middle Kingdom are exempt from tarnishing Pattaya's image.
In May, three transgender Thai women were identified and fined after a video of them posing naked for a group of Chinese tourists went viral, according to a Bangkok Post report, suggesting that Pattaya's reinvention is still underway. – SCMP
.
You can follow BangkokJack on Facebook, Minds & Twitter. Or join the free mailing list (top right)