More than 70 homes and buildings are feared to have been destroyed in a bushfire in Australia, authorities say.
The fast-moving fire engulfed the New South Wales (NSW) coastal town of Tathra late on Sunday local time.
Authorities said locals were evacuated to a nearby town and there were no reports of anyone missing.
Earlier, separate blazes in Victoria destroyed up to 18 properties. Authorities described the bushfires as the worst of the season.
In Tathra, four people were treated for smoke inhalation and one firefighter was injured as temperatures reached up to 38C (101F) on Sunday.
The fire had not been contained after burning through more than 1,000 hectares, the NSW Rural Fire Service said on Monday.
"This fire ran more than 7km (four miles) before it impacted on those properties so there is a huge fire perimeter for us to contain," deputy commissioner Rob Rodgers told the Australian Broadcasting Corporation.
.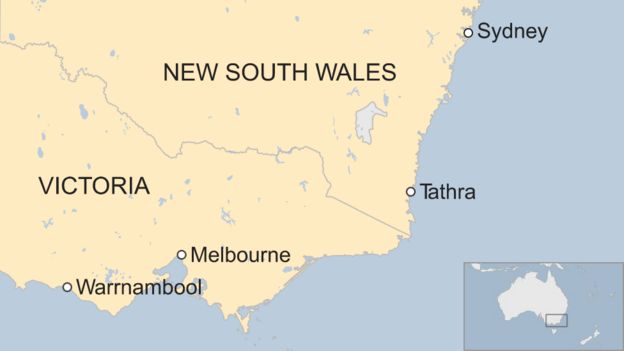 .
He said weather conditions on Monday would make it easy to battle the fire.
The bushfires in Victoria destroyed up to 18 properties and killed livestock in rural areas north of the town of Warrnambool, authorities said.
The Victorian fires affected at least 40,000 hectares and were probably sparked by lightning on Saturday, according to officials. – BBC
–
You can follow BangkokJack on Facebook & Twitter. Or join the free mailing list (top right)
Feel free to comment on story below