Organisers of a prestigious elephant polo tournament in Thailand have said they are "saddened" by behind-the-scenes footage that appears to show animals being beaten with sharp metal poles.
Animal rights charity PETA released video that allegedly shows handlers repeatedly hitting elephants with bullhooks and pulling their ears as they prepared for the 2018 King's Cup Elephant Polo Tournament in Bangkok.
The group claims that one elephant was struck 15 times until blood appeared.
(Scroll down for video)
It is now demanding that sponsors, which include brands such as Johnnie Walker, PwC, Peroni and IBM, withdraw their support.
A spokesperson for PwC said: "As it is a weekend we have been unable to raise this issue with our colleagues in Thailand but will do so as soon as possible.
"While we cannot comment on this specific situation at the moment, we would of course not support any form of animal cruelty."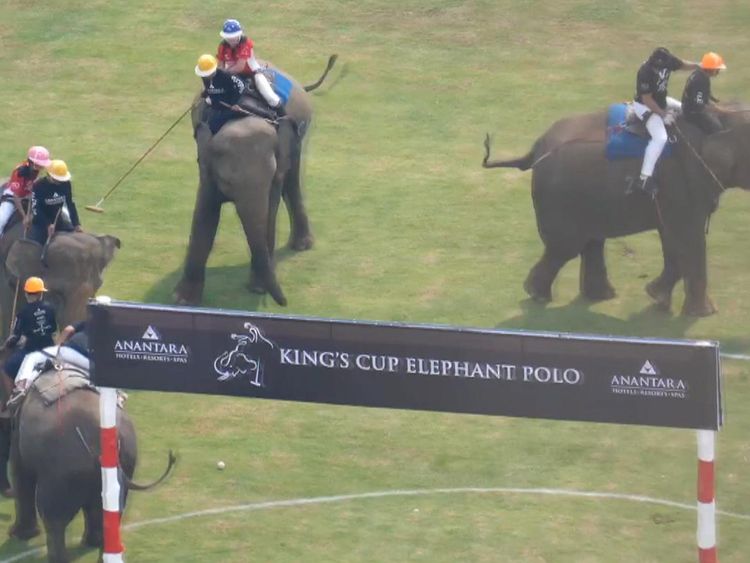 The other sponsors were not able to respond immediately.
"Beating elephants who are used in a game they do not understand while claiming to fund conservation efforts for their species is a scam," said Jason Baker, PETA's vice president in Asia.
"PETA and its affiliates worldwide are calling for an immediate end to this spectacle of suffering and for relief for the elephant victims of this fiasco disguised as a fundraiser."
The four-day event at Anantara Riverside Bangkok Resort is billed as a "highlight of international high society's annual social calendars" and an opportunity to "create real and lasting change for elephants in need in the Kingdom".
The organisers, Anantara Hotels, Resorts and Spas, told Sky News it "strongly condemned the mistreatment of any elephant at any time" and confirmed that the handlers in the video had been immediately expelled.
In a statement it said it "is deeply committed to improving the lives of elephants and the behaviour in the video is wholly contradictory to the purpose, the intentions and the rules that have been implemented for the King's Cup Elephant Polo Tournament over the past 16 years".
It added: "Prior to each tournament, all mahouts [elephant trainers/keepers], who originate from traditional mahout villages in north eastern Thailand, are required to confirm that they will comply with a strict code of conduct when they are selected to participate in the tournament.
"Extra security has been arranged to oversee the well-being of the elephants for the remainder of the tournament and additional Positive Reinforcement Training Workshops are now being arranged in the traditional mahout village in North Eastern Thailand."
–
Feel free to comment on story below